Nymphetamine Fix
An arrangement for classical/fingerstyle guitar
4 September, 2017
I've been on a bit of a Cradle of Filth nostalgia rush recently, so I decided to write an arrangement of their song, Nymphetamine Fix, from the album of (almost) the same name, Nymphetamine. I'm still working on actually being able to play this arrangement, but I have got a MIDI rendering of it you can listen to here:
I should note that I didn't just do this by ear (which I'm rubbish at); I made the use of the following resources while I was arranging it:
You can download versions engraved in traditional notation, tablature, or both below: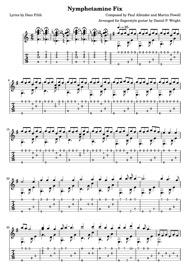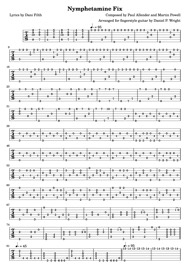 If you aren't familiar with Cradle of Filth or their song Nymphetamine Fix, here's the official video. It is a bit louder than the solo guitar version above.